full proto drawing
---
[ Follow Ups ] [ Post Followup ] [ Bessler Discussion Board ] [ FAQ ] [ Back to BesslerWheel.com ]
---
Posted by grim (206.162.192.40) on August 16, 2002 at 05:28:05:
First off I was not questioning John Collins' authority on this subject, simply saying what was found on www.spartechsoftware.com. Please don't shoot the messenger.
The legend under the drawing is as follows:
A) Springs to keep tension on cord.
B) Pulleys.
C) Hole in axle, same as J.B.'s drawing.
Depicted in mid-point of throw. Upper throw's weight moves out towards rim of disk, lower throw weight moves in toward axle at the same time. Lowest weight never gets anywhere near bottom of disk. Always topheavy and frontheavy. 15 inch disk. 5/8" axle. 1 1/2 pound lead weights on throws for counterweights. System has lifted one fixed weight at top point, four at bottom, so friction losses for one weight per throw minimal. May have to install guide pulley to keep cord running straight into axle hole,no biggie. Mirror image on opposite side of disk, 90 deg. offset from this side.
May put slide rods up throws for weights to go on if cord needs excess tightness to support weights, again no biggie. Arrows depict motion of all parts as throws trip, depicted at mid throw. In reality "stop-action" picture, it trips real fast. Works just lioke the curtain pulls in your house. If cord wears eventually, replace. All machines wear eventually.

regards

grim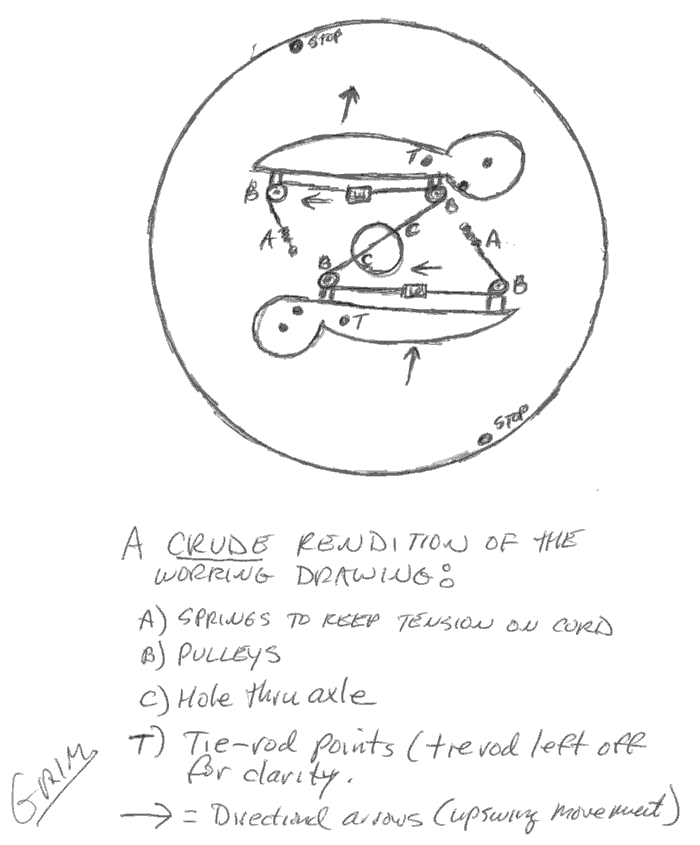 ---
---