Re: New gravity wheel idea
---
[ Follow Ups ] [ Post Followup ] [ Bessler Discussion Board ] [ FAQ ] [ Back to BesslerWheel.com ]
---
Posted by Scott Ellis (216.87.95.64) on January 31, 2002 at 19:49:46:
In Reply to: New gravity wheel idea posted by Davis Landstrom on January 16, 2002 at 08:53:53:
Thanks, Davis, for your post. Some of the page can be translated here:
http://translate.google.com/translate?hl=en&sl=fr&u=http://www.multimania.com/quanthomme/MVP.htm&prev=/search%3Fq%3Dhttp://www.multimania.com/quanthomme/MVP.htm%26hl%3Den
Unfortunately the translation stops before the section in question. I agree this is a great site, and David Cowlishaw is a character to be reckoned with.
However, I think it is easy to show that this machine won't work. In this position: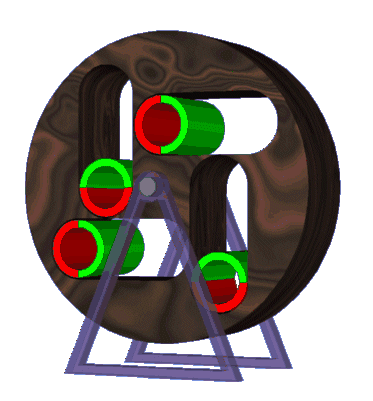 the weight on top is directly above the axle, so it has no effect. The two weights in vertical slots on either side cancel out (they are the same horizontal distance from the axle on either side). The weight to the lower left is pushing hard the wrong way (the wheel is supposed to turn clockwise.) IMHO, even if the center of gravity of the weights are offset, and regardless of the shape or length of the slots, the wheel can't possibly turn itself.
On the other hand, this old Cowlishaw idea still puzzles me:


The Gyroscopic Inertial Thruster


Here is a video of the machine in action:

If you can't see the video, try this: gravmotr.avi.

-Scott

: To Scott et al,
:
: I recently found an interesting web site about Bessler, but it was in French. The most interesting thing on this web site was some information and an animation of a Bessler wheel mechanism proposal which had been devised by David Cowlishaw. You might recognise the name, he is the one who developed and patented the G.I.T (Gyroscopic Inertial Thruster) the worlds first efficient purely mechanical reactionless propulsion device which has been replicated and tested world wide. He has recently turned his attentions to the Bessler wheel problem and has come up with an interesting take on an old desighn I always thought of as unworkable, anyway this web site is at:
: http://www.multimania.com/quanthomme/MVP.htm
: The machine that I am talking about is under the heading:
: Une conseption de machine d'Orffyreus par David Cowlishaw.
: Click on the picture of it and you will see how the mechanism works. It is about two thirds of the way down the page. the desighn looks simple enough to follow, however there are aspects of it like the Bi-coloured weights which I do not see the purpose of.
: It is explained in full in the text, French anybody?
---
---