Re: Bessler rant
---
[ Follow Ups ] [ Post Followup ] [ Bessler Discussion Board ] [ FAQ ] [ Back to BesslerWheel.com ]
---
Posted by Me again...with another dodgy bessler drg. (216.87.95.64) on February 04, 2003 at 20:34:28:
In Reply to: Bessler rant posted by John (the not famous one) on February 03, 2003 at 20:35:44:
I hope this a little clearer, lock the weight at 4 o'clock, unlatch at 9
o'clock were it kicks in toward the centre, meaning more weight on the right
side at the outer edge than on the left, were the weights are nearer the
centre.
This is all poorly thought out 'throw away' ideas...........feel free to
improve, I suspect the rod pivot is not a simple attachment to the
grindstone/flywheel but the pivot point itself is acted upon by the second
weight in the pair...
Also according to this statement from
http://jnaudin.free.fr/html/hbimp35.htm "A spring transmits energy 3 times
more efficiently than a flat plate", if this is true it would make a lot
more sense than having a weight fall and just hit a warped board for the
'drive'.
Regardz
J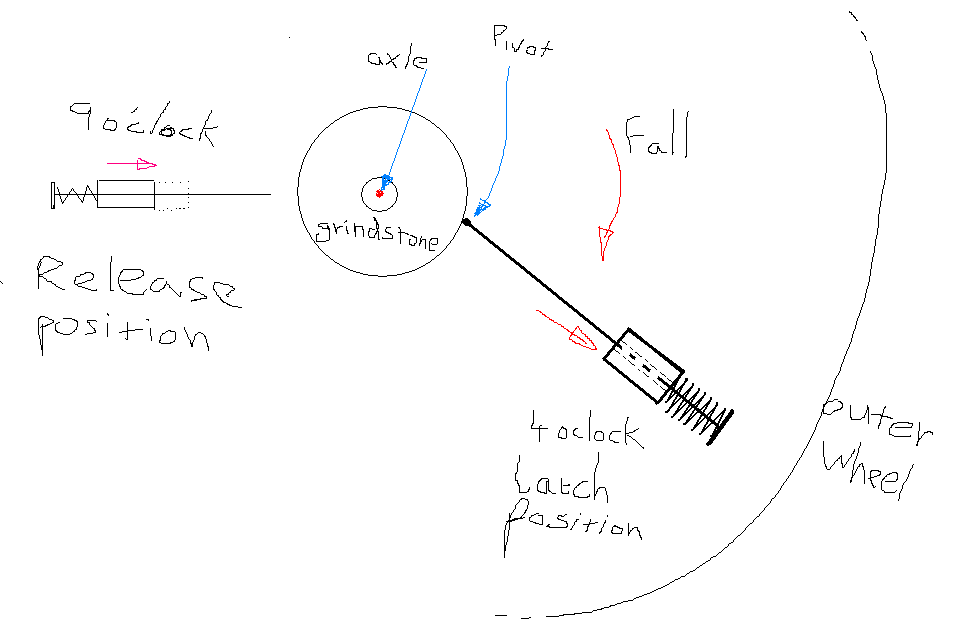 : Re: noise of Bessler loading weights in wheel.
: Do you think it could have been the weight being pushed down and caught
: under the latch?(to be released at 9 o'clock).
: Is the 'other' weight of the pair acting on the pivot end of the
: rod/pendulum(opposite to spring end)?
: Questions Questions...
: Regardz
: See attached (poor) drawing
:


---
---