Re: Some Material
---
[ Follow Ups ] [ Post Followup ] [ Bessler Discussion Board ] [ FAQ ] [ Back to BesslerWheel.com ]
---
Posted by Scott Ellis (216.87.95.64) on July 10, 2003 at 21:36:32:
In Reply to: Some Material posted by Michael on July 10, 2003 at 12:57:40:
Here is a picture that Michael sent me. Thanks Michael and good luck!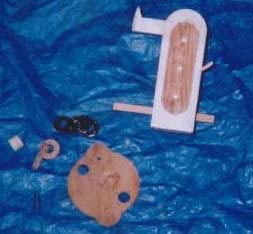 : I am uploading a photo that shows approx. 1/3 of the parts, to Scott today. It won't reveil how anything works however. Just to let you know, most-not all but most of the parts are fabricated from oak. I'll be spending today and tomorrow assembling a section of this machine to make sure all the parts align properly, and then going from there. Time is somewhat delayed from what I had wanted, but then life intercedes, and as anyone who has built something will tell you, things take time. I'm also doing all of this out of a small one bedroom apartement.
: Best regards,
: Michael
---
---