Bessler wheel theory part 3
---
[ Follow Ups ] [ Post Followup ] [ Bessler Discussion Board ] [ FAQ ] [ Back to BesslerWheel.com ]
---
Posted by Patrick (216.87.95.64) on September 23, 2003 at 22:19:38: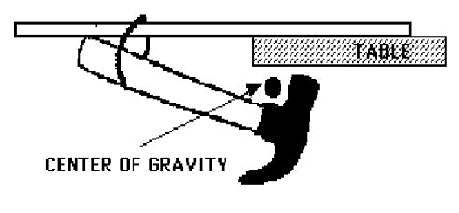 This is an example of a typical high school science class experiment. The hammer is suspended from a ruler using a piece of string or cord. Since the hammer is pushing 'up'; the center of gravity is such that that the hammer and ruler do not fall off the table. Bessler mentioned concerning his weights:
"one or another of them must apply its weight vertically to the axis"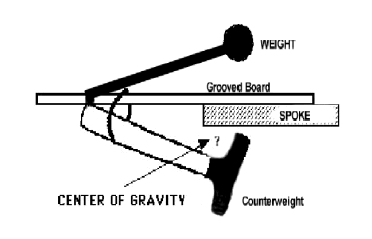 Can a weighted configuration similar to the one above be manipulated so that the weight of it's own design is directed towards the axis? Can the weight be directed towards the axis throughout the rotation and/or is it necessary or just on the upswing? Can you see the image of a 'flail' in this design?
--Patrick Doucette



---
---